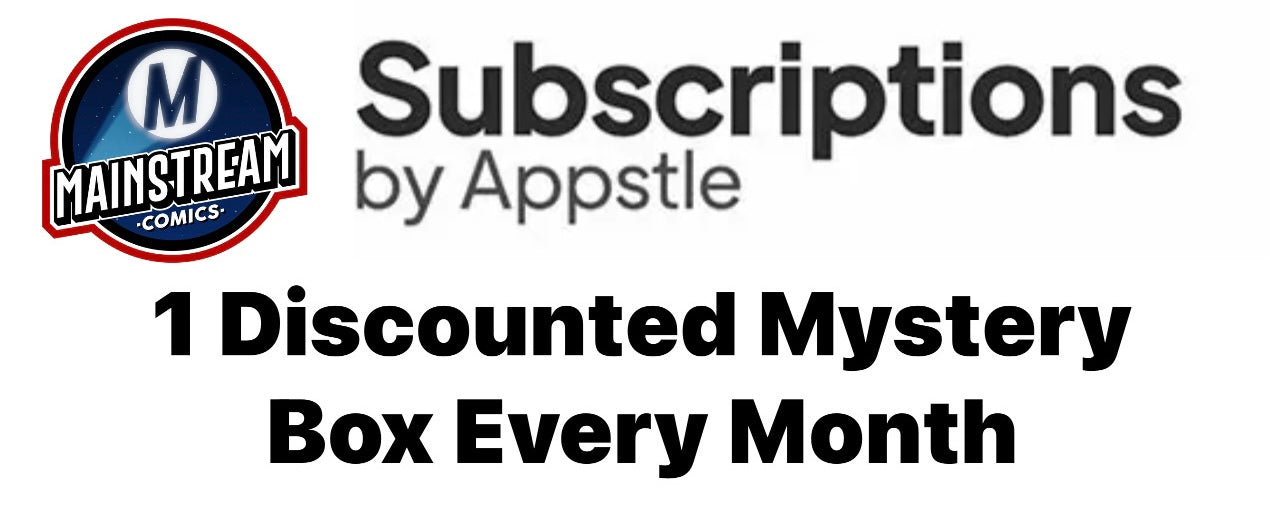 Mainstream Monthly Mystery Box Subscriber Savings!
SKU
MAINSTREAMMONTHLYSUBSCRIBERSAVINGS
🔃SUBSCRIBE & SAVE🔃 Get a Mainstream Monthly Mystery Box Delivered Every Month without even thinking about it! Save $5 bucks a box & GUARANTEE a Lucky Duckie with each box! (Requires Prepayment of Two Months ie. $60)
WHAT'S INSIDE THESE BOXES?!?
 ⭐️GUARANTEES⭐️
* All Comics come Bagged & Boarded (We use BCW Silver Age Bag & Boards for Safer Shipping of your Comics)
(1) Marvel Comic Book
(1) DC Comic Book
(1) IMAGE Comic Book
(1) Indie Comic Book (publishers like Dark Horse, BOOM! IDW, Aftershock, Oni-Press, etc.)
(1) Number One Comic Book (Random Publisher)
(1) Variant Cover Comic Book (Marvel OR DC Only)
(1) Premium Artist Cover Comic Book (artists like Artgerm, Jim Lee, Peach Momoko, etc.)
(1) Artist Alley Art Print (Mainstream Comics Exclusive Art created by BeN Ruzicka)
(1) Spot on our monthly **Golden Giveaway Mystery Wheel 🚨Only 50 Total boxes will be sold each month for our main monthly giveaway🚨
**Only 1 order will receive each giveaway. This giveaway will occur the first Wednesday of the following month…at 7:00pm Pacific Time via Facebook Live @MainstreamComics) 
🐥LUCKY DUCKIES🐥
ALL subscription box orders will come with an additional  item called a "Lucky Duckie." If you get one…you are lucky!
📦SHIPPING📦:
 INITIAL BOX: Orders tracking numbers are created every Saturday. Orders ship via UPS Ground or USPS Priorty Mail.
FUTURE BOXES: Subscribers will receive new tracking number every month. 
🌪🌪EPIC LEVEL MYSTERY WHEEL🌪🌪
All orders placed will be eligible for the EPIC LEVEL MYSTERY WHEEL! Order # selection will occur each Wednesday, be based on the collected orders that week (Wednesday 9am PT thru next Wednesday at 8:59am PT). If we land on your Order # you'll get a chance to get a FREE GRADED COMIC! How could that happen you ask? Your Order # will be placed on a wheel with other "NO SLAB" spots. If you get lucky and your number HITS! We will ship you a surprise graded comic for FREE!
Comic Book Condition Disclaimer:
We attempt to provide "desirable" condition comic books. We are collectors at heart❤️, but as another friendly reminder the only way to guarantee you a 9.8 condition book is to sell you a 9.8 graded comic. 
Disclaimer: You will be billed for your pre-ordered items at the time of purchase.  Due to the nature of collectibles, we cannot accept cancellations on pre-ordered items.  Please review your order carefully before final checkout. Your order will NOT ship until the shipment schedule listed above.
Warning: Some titles you receive may be for Mature Readers. All purchasers are assumed 18+.